Introduction
The MacBook Air is Apple's thinnest (and cheapest)  portable computer. Let's see if the MacBook Air is as awesome as it is slim!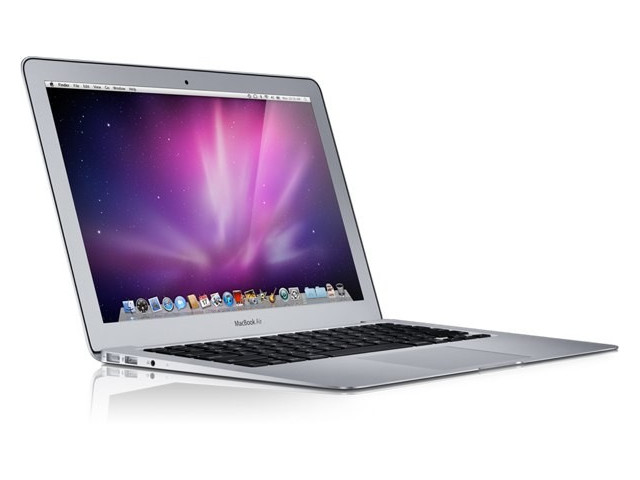 Detailed Specifications
My Particular MacBook Air has a 1.6GHz Intel Core i5 CPU, 4GB of 1333MHz DDR3 RAM, and a 128GB SSD.  Graphics on the crisp glossy 11-inch screen (with a native resolution of 1366×768) are provided by the Intel HD Graphics 3000 chip. 802.11n-compliant Wi-Fi and the Bluetooth connectivity is provided by a Broadcom chip. My MacBook Air came with Mac OS X 10.7(.1?) but some large downloads later and I'm at 10.7.3.
Packaging and Documentation
Apple's simple and sleek packaging is a win, with the total unpacking time of only 3 minutes, including unwrapping the power cord and removing the protective plastic from the computer. The MacBook Air includes a MagSafe power adapter, a short "duck-head", and a long extension cable if you don't like having to be five feet from a power outlet at all times and prefer to be about 10 feet away from a power outlet. And yes, with the surprisingly sub-standard battery life of the MacBook Air, you may need to drag that power cord around with you, but that's a topic for later…
Design and Aesthetics
The MacBook Air is a beautiful, and may I say sexy, computer. It is very thin at the front, and tapers to the slightly thicker hinge side. The matte aluminum casing is slick and feels almost soft. The plastic covering on the hinge and the chiclet-style full-sized keyboard are matching black. And of course there is the iconic illuminated apple on the lid.
The MacBook Air doesn't have any vents or ugly removable covers. The spaces under the keyboard act as intake vents and, like all other Apple notebooks, the hot air comes out by vents under the hinge.
Build Quality and Portability
Apple's metal uni-body design sets the MacBook Air apart from most all of its competitors. The tiny computer feels surprisingly sturdy. The hinge functions smoothly with a little less effort than I like, meaning the screen does bounce around a bit when using the MacBook Air in a bus or in similar situations. Apple eliminated the weak fold-out port design from the earlier MacBook Airs, which, while exposing the ports and not allowing the side edges to be as thin, aids the new MacBook Air in feeling like a well-rounded and finished product without flimsy tacky port covers.
The cooling system of the MacBook Air is very well designed; while the fan does kick in and become quite noticeable after extended sessions of Minecraft or other CPU- and GPU-intensive tasks, it's unobtrusive and hardly annoying. After ending your system-intensive task, the cooling fan will almost immediately slow down and become quiet again. While writing this sentence, than fan is at the minimum 2000RPM fan speed and there is an internal temperature of 45C degrees.
The included power adapter is small and light. It doesn't create a lot of heat, so it's a reasonable assumption that it's quite efficient. And yes, you will need to bring your power adapter along; the MacBook Air's non-user-replaceable battery runs out surprisingly quickly if you like your screen at anything above minimum brightness, with only about 4 hours of battery life for a session of general web browsing, writing articles for Hardware Insights, and checking my Hotmail.
Performance
The MacBook Air has phenomenal performance compared to other "netbooks". Then again, the MacBook Air isn't really a netbook… it's more of an Ultrabook-like device. In our tests, the MacBook Air was able to hold its own against the theoretically more powerful Lenovo IdeaPad V570 we reviewed a while back, (you can read that review here) in playing games and just general performance. The Samsung-made SSD in the MacBook Air makes all the difference – applications open quickly and the computer starts up more quickly than any Windows or Linux-based computer I've ever experienced. While the Intel Integrated Graphics might not play the latest games with high FPS at high settings, especially when hooked up to a high-resolution external monitor, they are sufficient for most games at medium settings. Minecraft, Urban Terror, Grand  Theft Auto: San Andreas, Angry Birds, and StuntMANIA all performed very well, even though the MacBook Air's Intel GPU were pushed to its limits in some of the games, including Grand Theft Auto.
The MacBook Air is not good for avid photographers, audiophiles, or video-lovers. The paltry 128GB of storage space would get filled up rather quickly with multimedia content. If you do need a store a lot of content, an external hard drive would be recommended. If you do decide to get an external hard drive, put it off until units that run on the MacBook Air's blazing fast Thunderbolt are commonplace and inexpensive.
Expandability/Ports
Usually this isn't the primary factor when purchasing a laptop, since most mid-range PC laptops have similar amounts of ports. However, with something like the MacBook Air, where expandability is compromised, this becomes extremely important.
The MacBook Air has very few ports. On the left side, you've got the MagSafe Power connector, a single USB 2.0 port, and the headphone jack. On the right side, you've got the Thunderbolt port and another USB 2.0 port. Yes, that's it. However, keep in mind that the Thunderbolt port is compatible with Mini-DisplayPort so that you can hook it up to HDMI, DVI, VGA, or something else in that category.
The MacBook Air 11″ does not have an SD card slot, (only the 13″ models have this), so you will need to get a USB SD Card Reader if you plan to use your digital camera with this computer. However, as mentioned above, this laptop isn't exactly meant to hold enormous amounts of multimedia content since it's got a small 128GB Solid State Drive, so wait until you get home to transfer your photos to your computer!
Of course, the MacBook Air lacks an optical drive. I honestly can't think of a single situation since I got it that would have required the use of a CD or DVD. I certainly don't miss the optical drive, and I'm happy that the computer is thinner and lighter and has better battery life because of it. Most software applications, games, movies, and music are available online, so optical drives are unneccessary anyway. However, if you frequently watch DVDs or burn discs, you may want to look into a MacBook Pro or a USB DVD drive.
Conclusion
While the MacBook Air is by no means perfect, it's pretty close. Compared to other Apple computers it's rather inexpensive, (that doesn't mean it's cheap, though, it's much more expensive then a normal netbook or notebook PC), while maintaining the integrated and polished looks that Apple is known for. It's fast, light, and sturdy, and can do almost everything its desktop-sized counterparts can do.
Unfortunately, it's hindered by mediocre battery life, a small and low-resolution display, and the lack of expandability.
Discuss this review in our forums here.
Pros:
Powerful performance
Sleek looks and thin form factor
Solid casing
Great keyboard and touchpad
Quiet
Thunderbolt I/O Port
Price (compared to some other Apple computers)
Cons:
Minimum expandability
128GB storage space
Weak graphics
Lousy integrated webcam
Price (compared to a normal Windows-based laptop)
Scoring
Design and Quality: 10/10
Performance: 9.5/10
Features: 8.5/10
Value: 8/10
Final Score:  9.0/10