Introduction
Today I got a very exciting object delivered to my door by UPS: A Cooler Master Elite 430 Black computer case. This is the first decent case I've ever bought new in my life (I bought a cheap Rosewill Micro ATX case once for my server but that hardly counts), so this is going to be quite an interesting experience.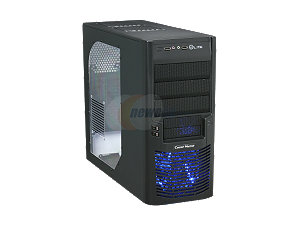 The CM Elite 430 costs about $40 at the time of writing. I ordered it from Newegg.com, however I didn't bother with the rebate. According to Cooler Master,
The Elite 430 Black was designed all-black interior coating with its main purpose in mind  as such there's plenty space for large graphics cards, no matter your brand preference. The Elite 430 Black also features plenty of cooling options and a well ventilated front mesh design to keep even the hottest system nice and cool.
Basically what Cooler Master was trying to say with that badly worded summary of their product was that it's got an all-black interior coating, plenty of space for large graphics cards, and that it's got some features that improve the cooling. Here are some of the features, according to the Cooler Master website.
Interior black coating makes stylish inside looks.

Front 120mm fan with brilliant Blue LED provides the best airflow to HDDs.

Rear 120mm fan for high-efficiency ventilation.

Tool-Free mechanical design for quick assembly and maintenance.

Side ventilation holes for better cooling performance.

Large transparent side window included.

Supports long graphics cards including Radeon HD 5970.
The interior black coating is a nice touch that makes this case look leaps and bounds better than most other cases in this price range. The front fan is quiet and moves a good amount of air, and the blue LEDs do look snazzy. Now, there was definitely no rear 120mm fan in my case. There was a vent and screw holes for one, but there was not a fan. They should probably specify that. The tool-free drive bays were a mixed bag, but I'll go on about that later.
Unboxing and Documentation
Well, I kind of slacked on taking pictures of the packaging on all that, but here's what I've got:
The case was packed pretty well. The only damage (and you can probably blame UPS for that) was a little ding in the top fan grille. You can't really see it, especially when a fan is installed. All in all it is packed securely, using the typical foam end holders.
The Cooler Master 430 Elite includes a little baggie of parts. There are tons of extra screws, (however they could have included some black fan screws for a better look).
The documentation is a single huge fold-up sheet in multiple languages. The diagrams are decent, but the layout could be better. There were a few grammatical errors but nothing too bad.
Build Quality
The Elite 430 case, available brand new at about $40, has overall high build quality. Much more than expected of a $40 case. The metal feels sturdy and the case panels line up very well. The front panel attaches by the standard plastic nubs; this could be improved to screws or latches, but again, this is a pretty inexpensive case.
My biggest gripe is those damn slot covers. They're the ones you have to rip out with a screwdriver and they don't go back in. This is what I would expect on a cheap $20 generic case but not on a Cooler Master product.
Other than that, the only two problems I had were with the fan filter mesh and the tool-free drive bays. The little plastic tabs that held the sheet of mesh to the top of the case (for the two top fan spots) fell off while I was putting the fans in. This doesn't matter once the fans are installed (they hold it in) but it did make installing the fan screws a bit more finicky. The other problem was the tool-less mechanisms for the disc drives… mine must have arrived broken because they wouldn't completely latch no matter what. No big deal, they include plenty of extra screws with the case, but it would have been nice for these to work as advertised. The tool-less mechanisms for the hard drives, on the other hand, work perfectly and feel very secure.
Aesthetics
The 430's side window lets you look at all your hardware, lit up by the included 120mm fan with blue LEDs. However, it would have looked better if Cooler Master had omitted the fan vents in the side window. The plastic front of the case is laid out cleanly, and has a nice look to it. It definitely doesn't look cheap or lousy at all. Something usually not found in cheaper cases like the CM 430 is that the internals of the case are painted black.
Cable management is so-so, but still not too bad, as there's plenty of space to stuff the extra cables.
Here are some pictures of the Cooler Master 430 Elite case:
Cooling
Cooling in this case is excellent! It can fit a total 5 120mm fans – 2 on top, 1 at the back, 1 on the side, and one on the front. While only the front fan was included, with the addition of 120mm fans to the 2 top spots, and a 120mm on the side, it keeps an overclocked Pentium 4 Prescott CPU cool. The fanless AGP graphics card I used stays cool to the touch due to the side fan, which blows cool air from the outside right onto it.
It does have two watercooling grommets in the back if you're into that sort of thing.
Since the power supply is located at the bottom of the case, it gets cooled better than if it was at the top. If it's got a bottom fan, you can either mount it right side up so it draws in cool from the filtered intake vents on the bottom of the case, or it can be mounted upside-down to draw in warm air from the expansion slots. If your power supply draws from the end, it's still adequately cooled, with fresh air from the front 120mm fan.
Conclusion
The Cooler Master Elite 430 is a very good case at a very good price. It combines solid build quality from a reputable name, great cooling capacity, and great looks, at an extremely good price! If you're looking for a case for your new computer, and you want to show off what's inside but don't want to break the bank, this case is for you! To finish up, this case wins a Hardware Insights Silver Award! Discuss this review.
Scoring
Documentation: 8/10
Build Quality:9.5/10
Aesthetics: 9.5/10
Cooling:9.5/10
Value:9.5/10
Final Score: 9.2/10