Introduction
The Cooler Master V Semi Modular V550S is a 550W and 80 PLUS Gold certified (@115 V) unit made by Enhance Electronics. The original VS version came in 2013, I reviewed it in December that year but a newer version came quite quickly. Now it bears the name V Semi Modular but otherwise it is the same (V550S label and RS-550-AMAA-G1 codename). As the name suggests, it is a semi-modular unit with fixed Main ATX, ATX 12 V and PCI Express cables, the peripheral ones are modular.
Cooler Master provides 5 year warranty for this unit, as usual most resellers provide only 2-3 years from their side. Actual price starts from 2300 CZK or 130 AUD. Be aware that many stores still carry the first revision so you must be picky! But continue reading, you will learn how to tell the two apart without even opening them!
The V550S has a single +12V rail capable of delivering 45 A. The +3.3 and +5 V rails are produced from the +12 V through DC-DC modules, as basically all high-end units do it these days. They provide usual 20 A each or 100 W combined. The −12 V rail does 0.3 A, stand-by supply 2.5 A. Still no changes from the original version.
Packaging and accessories
Here we come. This is the one and only visual difference between the first and second version. It shows the slightly different name and informs you it has 100% Japanese capacitors. Almost all of them are quality ones now!
Here is the previous box so you can see with your own eyes.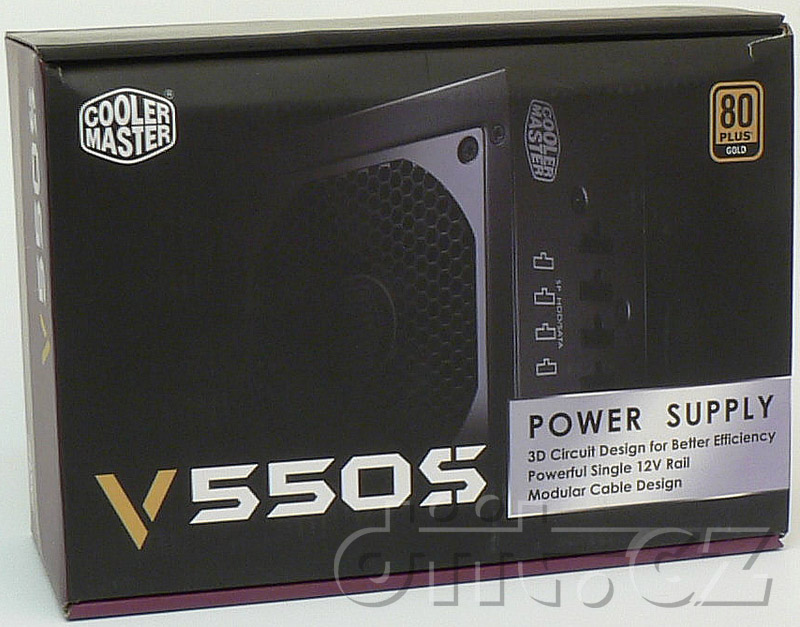 Otherwise it looks pretty much the same. The backside shows the unit's fan curve, efficiency curve, protections and connectors the unit has. Inside the box the power supply itself is packed in two forms from some recycled paper (most likely) and a plastic bag.
The accessories include a power cord, all the modular cables, manual and some screws too. Nothing more, no extra equipment here.